For those of you who don't know, Soulfit is a womens only fitness centre based in Woonona. I joined up as a member of Soulfit a while back as I had "lost my mojo" with my existing workout routine and wanted to try something new. What started as a two week trial to get my motivation reignited, quickly extended in to several months as the friendly community feel and the variety of the group sessions got me hooked. As a nineties music tragic, it also brings me a little spark of joy hearing a Prince track pumping through the gym speakers now and again – I believe I may have found my people.
Soulfit first caught my attention when its' co-owner, Alex Blake, started posting candid and honest videos of her own ups and downs with her personal fitness on social media. Alex's raw and realistic attitude was a refreshing change to the usual "body challenge" before and after shots that tend  to leave me feeling a little inadequate.
Alex and her business partner, Alita Ashcroft have been a team for around 12 years. Initially owning franchises Contours, then Envie Fitness at the same premises, they launched Soulfit as their own entity in February 2018.
With the newly renovated Soulfit approaching its' first birthday, I managed to pin Alex down for a coffee to discuss how Soulfit has evolved in to the unique, supportive community that it is:
"I've really enjoyed coming to Soulfit – I've found there's something a little different about the vibe here and so much variety."
Alex: When you say something like that, it makes me really proud because it is something we've worked really hard at over the years and I feel that we've done a good job to create a real community within the gym here. It's something that I feel is our point of difference.
Alita and I have tried hard over the years to create that vibe and I find it's always nice when ladies come to me and say "I don't like gyms", but then later say "Oh, this feels different – I feel like I'm a part of something".
As for the variety, all of our classes are fully programmed by our team, but are different every week. If you decide to come to a 6am Wednesday class, you're not going to get 12 weeks of the same class, you're going to get a different workout every week.
"Tell me a little about you. How did this all begin?"
Alex: My background's totally left field. I went to Uni and completed a Bachelor of Communications and Legal Studies. It started off as a law degree but then I decided I didn't want to do that after a year or two. I went back and did post graduate studies in journalism and worked at WIN television. I started off there as their Publicity and Promotions Assistant and ended up becoming the Network Director for Publicity and Promotions for the WIN Corporation, so that encompassed their television, i98 – their radio arm, corporate productions, all of that sort of stuff.
I met Alita through our husbands and she was working for Contours head office at the time as a Business Development Manager, helping new Contours franchises from the ground up. She would fly in when a new site would one and help the franchisee grow the business. We used to go running together, and we would talk about work a bit, then one day she said something along the lines of "I reckon I could do this".
I was feeling ready for a change at work – initially I was looking at coming on board just as an investor and keeping my job, because I didn't have that "physical" background. The more time we spend growing, developing and planning it, there was no option other than to work in it, because I was so emotionally invested by that point. We're really lucky in the sense that we compliment each other. My strengths are her weaknesses and vice versa.
We started as Contours, which was a circuit based gym, with pin loaded equipment – we opened that business 12 years ago – I think I was 26 and Alita was 24. We opened a second one in Dapto, so we had two gyms – Alita had already had her first baby and then we ended up pregnant at the same time (me with my first child and Alita with her second). At that point it all just became a bit too much for us and we knew something had to give. We ended up having our children on the same day – very cool, but tough for running a business, although we survived. Woonona was always our baby, our first baby, so we decided to sell Dapto and just focus on Woonona.
After 5 years, the market had evolved a lot and we'd started outdoor fitness – people wanted more and it's a progressive industry. We realised this and there was only so much we could do with Contours, so we spoke to Head Office about how we felt things were stagnating and they said, "Funny you should say that, we're looking at an Australian based brand and we'd like you to partner with us to launch the first Envie Fitness", which we did. We went from being a circuit based gym to a full gym with both indoor and outdoor classes plus a functional training area. The only thing we didn't offer was a pool and the option to be able to work out with your husband / male partner, because we were a female only gym. We had the childcare facilities then too, but while our own business continued to grow, the brand of Envie Fitness wasn't really growing, so they only ever had about 8 studios and we felt like we were paying to be a part of a brand that wasn't really going anywhere. After 11 years in the business by this point, we felt like we were more than capable to take it on ourselves and invest in the areas that we wanted to, plus reinvest back in to the business, hence the renovations this year. Soulfit grew from that and launched February 1st 2018.
"Your personal videos on social media was what first got my attention. I found it really great how you just put yourself out there and if you're having a crap week, you let everyone know about it as well as sharing your wins along the way."
Alex: I exercise, I like to stay fit – I find I'm a better mum for it, I'm a better wife for it, I'm a better friend for it. I do a lot of yelling at the kids if I don't exercise! Alita's looked up to and loved by our members and very much inspirational to many of them… she's one of those really disciplined people with her health and fitness. She's competed in Ironman events – she's a machine! She still goes out and enjoys herself and has a great time, but she's that superhuman level of amazing and so to balance that out, I decided to just go out warts and all and say, "Ok, I ate hot chips with truffle sauce four times while I was in Singapore and drank bucket loads of alcohol!" I guess I was trying to be relatable and let people know we're in it together, you know… our journeys are similar and they're very much up and down!
One of the things Alita really focuses on with both our trainers and our members is that that the physical side is just one small part of overall health. There's the mental side, the social side and the emotional side of things to consider as well.
I try to spend the majority of my time when I'm at work interacting with our members. I work from home as well, so I break up my day and spend a couple of hours working from home while the kids are there. I spent this morning at the gym walking around and talking to members. One member I saw was upset last time I saw her because she had an interaction with a family member, so I sat on the floor and chatted with her for 15 minutes, then I had some other members up the back so I sat down with them and we spoke about Christmas shopping … it's about taking that time to actually connect with people. I think we have such an amazing group of women in there who are so supportive, and everyone's going through their own stuff. Its's so important to build those relationships.
"How have you built that community feel in to the place?"
Alex: Neither Alita or I are in to clicks – I'm not like that in my personal life and there was no way I was having that in my professional life either. We're a difficult bunch at times, us females – we can be a little bit fickle. I often used to hear stories about other establishments where if you didn't know a certain person you weren't given the same treatment or the same service, so what was always really important to us was that everyone was always on the same page. It doesn't matter who you are, where you come from, what you look like, how much you weigh, anything like that – it doesn't matter if you do PT or you don't PT. We try to keep everyone on the same level and we've worked really hard on that both from a membership perspective but a team perspective as well.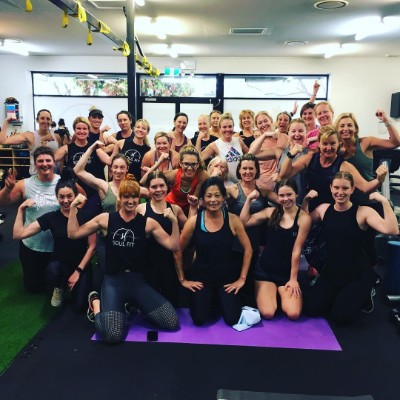 I think its about at the end of the day, women have got to support each other. Something I learned early in life from a friend and have carried with me is you never ever judge someone until you've walked in their shoes. I always think that when a member might come in …you never know what someone's been through that day.
Something we did recently that worked really well was teaming up with another fitness provider, Alyssa Yeo from Fit for Change. She brought her members along and we did a big combined workout session. I'm keen to work together with other local businesses here in the Illawarra. There's enough room for all of us and we're all part of the same community. Members leave us if we're not the right fit for them and others join us because we are.
"Soulfit has been involved in a few charitable causes in the Illawarra area. Can you tell me about those?"

Alex: We've tried really hard to stay in touch with the Illawarra community. When a member is involved in a special event – we try to support them, when we have members going through hardship – we try to support them. For all the bad in the world, it's a small percentage and I find that people are inherently good and they want to help, but they often just don't know how. We are in a position where we can give a vehicle or a platform for people to be able to help – it might not be monetary but it might be a collection of goods like nappies and food etc or a special outdoors workout where anyone can attend for a gold coin donation.  It gives people a chance connect to each other and be actively involved and that's important to me, because my social conscience is quite strong.
We also look at what's happening in the community right now, such as the farmers epidemic, or any personal tragedy that's affected our members. We've done a fair bit with Saving Chloe Saxby over the years – Ngaire, her mum was a member with us for quite some time.
Our Kids Run is a fitness fun run that Alita and I started. We used to have a lot of members participating in various fun runs and then Alita's little boy took part in the Mother Day Classic here in Wollongong – the 5km event. She told me about the look on his face when he crossed the finish line -how excited he was and the idea grew from there. It's a 2km and 4km event for kids aged 4 – 14 years of age. $5 from every entry goes back to that child's local school and then a random participant is drawn to win and extra $500 that goes back to their school as well. We have up to 200 kids take part and we have local businesses sponsoring the event. IGA get down there on the day with fresh fruit, juice and ice blocks for the kids, i98 FM is there, Soccer Man. Every kid gets a medal at the end….it's just a really great day and all about getting outdoors and being active with your kids and having fun. We always hold it in March. 2019 was our 6th year and raised over $2000, bringing our total to over $10,000 since the event started.
"I struggled after my kids were born and wished getting to a gym was easier. I see so many women coming to Soulfit with their children in tow and it's just lovely. I know there are other gyms out there offering childcare, but it can be so expensive and usually very limited to book them in at certain times. For someone like me with 3 children, if I'm paying $5 per child, per workout and I'm trying to do that three times a week, plus paying my standard gym membership fees it becomes ridiculously expensive. Soulfit seems to offer a lot off flexibility for those juggling work and / or young children…"
Alex: Absolutely. For some ladies, that creche is the difference between coming and not coming. Some have partners that are on shift work, partners that work away, single parents, no family support – having the creche there becomes the difference between being able to work out and not work out.
We have no contracts, no lock in periods and no cancellation fees. Our model means that if people leave, its' on good terms and when people leave happy, they come back. Yes, we are a sales based business, but we don't drive sales as our back bone and I pride myself on that. We operate through the service we provide to people so when someone comes to us, they can make their own mind up if we are offering what they want, they don't need me to push, push, push (and I'm not a pushy person).
Nearly everyone who walks through our door does end up joining because they like the experience that they get. If someone comes in on a pass, I'll touch base with them afterwards, but I won't ever pressure them to join, there's never pressure. Gyms used to be all about pulling out the emotion in people to get them to sign up, but I say to my team – just be you, be authentic and have a conversation with people. Consumers are too intelligent and it doesn't sit well with me. I'd rather have a relaxed approach and just show what we provide, than manipulate their emotions or guilt them in to signing up.
"Where do you choose to lunch around here and why?"
Alex: 4 Little Beans and At All and Sundry here in Woonona. For the people and the food. At All and Sundry, they do a salad bowl that always changes and I love that. They're a nice local young couple, and its' nice to support them. Marnie from 4 Little Beans is also one of our members and she's a supporter of ours. They always do a really good, fresh mixed juice – I had one this morning. The other place I really like is Flat White with One. I've been going there a bit lately.
"If you could give out just one recommendation for improving overall health, not just physical, what would would it be?"
Alex: This might sound a little left field, but for me, I write in a journal daily. I find it sets my purpose for the day in relation to my health and wellness, my business and my personal life. Its about what I want to achieve each day. A lot of its repetitive, if I'm working towards something over the month, but I also just take that time to write about things that are in my head – I used to have a gratitude journal where I would just write about 3 things every day and that's expanded in to this daily journal. It serves as a bit of a planning tool. Oh, and don't overthink things. Just get out and do something.
Soulfit is open from 5am – 10pm every day. They offer over 100 classes each week at both indoor and outdoor locations. If you'd like to find out more about Soulfit, contact Alex or Alita by emailing info@soulfitwoonona.com.